Holistic Help for Building Futures
An End To A Means
Just two years ago, Ms. Theara* was one of many snack sellers operating around the famous Angkor temple complex just outside the bustling visitor destination of Siem Reap, Cambodia. The 61 year old widow was accompanied by her five children, who spent their days selling small souvenirs to the thousands of visiting tourists.
That stopped abruptly in March 2020, as the global impact of COVID-19 effectively ended international tourism. With no tourists to sell to, there was no income. The family soon began to struggle to have enough food to eat each day.
They looked for other work, and found a seasonal job as potato collectors. Together they could make up to $5 a day, but when there was no work they undertook the risky activity of going out into the forests to illegally collect fruits, nuts and vegetables to sell at the local market.
Kaliyan Mith Intervenes
A referral from local authorities brought intervention from the Friends-International program in Siem Reap, Kaliyan Mith (KMSR). The team from KMSR conducted a comprehensive needs assessment to identify and provide tailored support.  Firstly they worked with local authorities to help the family register for an ID-Poor card. This helped them to access government cash transfers. Now the basic food needs of the family could be met without the younger children having to work.
Next step was getting education support for the three youngest children to work towards getting them back to school. Mum and her two oldest children were referred to the KMSR Futures Office for employment support. While all this was happening, psychosocial counselling was provided to the family as part of the ongoing case management – very important, as of course this family were experiencing major impacts to their lives against the backdrop of a growing pandemic.
Looking To The Future
It was clear to the Futures team that Theara had both the strong skills and the expertise to run a small food business. Following career counselling and access to job readiness training, she was supported in developing a business plan, including identifying initial start-up costs and money management training. Her two older children could also actively support this plan while they were receiving career counselling and waiting for their own job placement.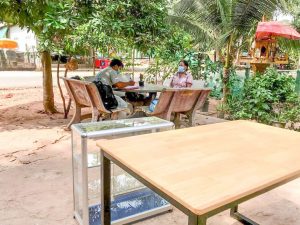 Starting Over, and New Challenges
May 2021 saw the start of Ms. Theara's new business selling grilled meats and Khmer pancakes. The family also received two emergency packs of food support and hygiene materials from KMSR to help them through the start-up period.
However the impact of COVID-19 was worsening in Siem Reap. Lockdown periods, 'red zones' and widespread restrictions were introduced from March. Even as her business started to grow, increasing case numbers escalated fear and anxiety of the virus in the community. By July restaurants across the nation were closed (reduced to takeaway and delivery only). It was clear that the business needed to adapt to survive. 
Adapting To Thrive
From July, with the support of the Futures team, she adapted her business. She stopped selling cooked food and started selling fruits (watermelon and coconut) and second-hand clothing. This helped with general customer concerns over hygiene as there is less preparation involved (and less risk of government restrictions), and very soon the new business began to make a small profit.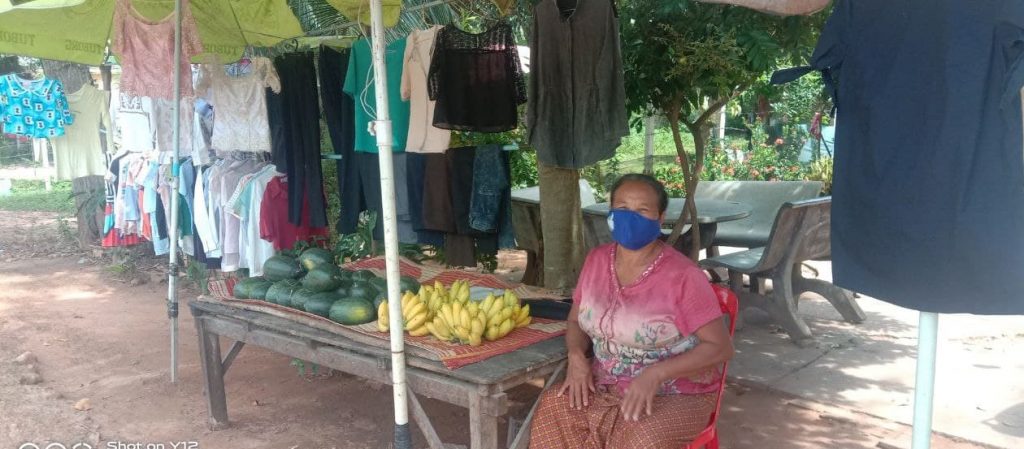 Now, the Futures team continues to monitor her new business to ensure continued financial success, balanced with necessary COVID-19 safety protocols being met. Ms. Theara can now support her family, thanks to the assistance of KMSR and the Futures team. Her younger children are no longer working. They are being supported to resume their studies through remote education support and will reintegrate to public school when schools reopen. There is also the opportunity for the family to bring more money into the household, as Ms. Theara's two oldest children are being supported into job placement by the Futures team as soon as possible.
The pandemic has shown that things can change rapidly, with former livelihoods for many disappearing so quickly, however our teams are working with individuals and communities to adapt, to refocus and to ensure that they can rebuild their futures, and provide for their family as we all move toward a post-COVID world.
(to support our work, please visit friends-international.org/rebuildfutureswithfriends)
*name changed to respect privacy