Friends 'N' Stuff Comes To Bangkok!
Friday was an incredibly exciting, emotional and exhausting  day for the Friends program in Thailand, as the brand new 'Friends 'N' Stuff' shop opened its doors for the very first time in a grand celebrity launch event! Read what Friends Thailand Country Program Director Vuthaya Charoenpol (Ann) has to say about their 'Perfect Day' below…
'Another Perfect Day for the Peuan Peuan Team!
 Back in December 2009, at the first Trade Fair that Peuan Peuan exhibited at, during the Thai Craft Fair, I was really excited to see our Home Based Producers products displayed and sold publicly.  Last Friday, 1st November, it was much, much more special than that. Finally Peuan Peuan had opened the very first "Friends 'N' Stuff" shop in Thailand, located in central Bangkok, on Sukhumvit 49.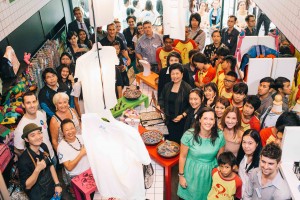 We had a full house, with almost 100 guests packed into the shop, including His Excellency Klas Molin, Ambassador, the Embassy of Sweden, Paul Valkovics from Race of Champions, Laura Shepard, the Communities Project's Chairperson, and other government and NGO partners there participating and witnessing the launch. Big thanks go out to Dr. Pusadee Tamthai, the Deputy Governor of Bangkok, our Guest of Honour who performed the opening ceremony. As part of her speech she said that… "As a part of Bangkok Municipal Authorities policy, Bangkok is a city for all, where its inhabitants can access to all services and welfare. This training center and shop will serve in building capacity of communities in Bangko … Now I officially announce the opening of the shop and wish you all the best and success to the project"
 Now that "Friends 'N' Stuff Bangkok has opened, please do visit our shop and you also can follow our new products and activities on facebook at this link https://www.facebook.com/FnSBangkok '
'Friends 'N' Stuff' Bangkok is open everyday Mon-Fri from 09.00-18.00 hrs and at weekends from 14.00-19.00 hrs