Friends-International – 25 Years of Building Futures!

Today is a landmark day for us all at Friends-International as we mark the 25th Anniversary of the launch of Friends.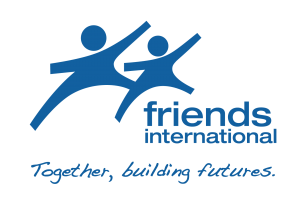 We'll be celebrating that anniversary across our programs throughout the coming months, and along with looking back at the many challenges faced and the incredible achievements of the past 25 years we'll also be very much looking forward to exciting new developments in our work and the new approaches to how we do that work.
In this first part of a two-part blog on the origins of the organization, we travel back in time to 1994, and the dangerous streets of Phnom Penh where three young travelers founded a mission to start saving lives and building futures for the many street children of the conflict ravaged city…
Challenges… and solutions!
Sebastien Marot, founder and Executive Director of Friends-International, and his friend Barbara had arrived in Cambodia early 1994. There they met another traveler, Mark, who like them was outraged and deeply moved by the plight of the street children they were encountering in the still dangerous streets of Phnom Penh (guns and even landmines were commonplace)on a daily and nightly basis.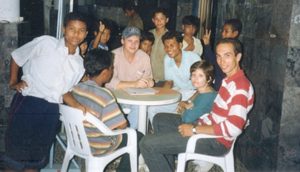 1994 was ostensibly a year of hope for the country with the coming of the United Nations Transitional Authority to oversee the transition to democracy, alongside an accompanying influx of overseas aid. Although they had no experience in the development or aid sectors, the three friends could clearly see that nothing was happening to support the children who were roaming the streets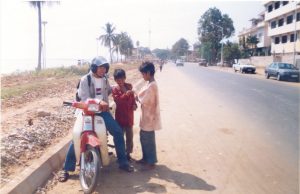 They wanted to find safe alternatives for these children, away from their current risky situations. Initially the three made many mistakes in how they went about this. These were mostly due to assuming that what they wanted to do would be right for the children. Having quickly realized that what was necessary was to actually listen to the needs of these kids, to help them achieve their hopes for better lives, they found a local volunteer who could make communication easier.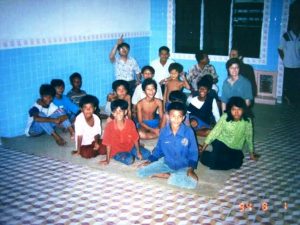 Education and safe shelter were the first identified needs, so pooling their resources the three founded the first Friends-International program, Mith Samlanh (meaning 'close friends' in Khmer language). They opened a drop in center and shelter for youth 25 years ago today, on the 1st August 1994. That first night, 17 young people excitedly arrived at Mith Samlanh center in the Toul Tom Pong area of Phnom Penh to spend the night there… ten days later, and only one remained – what could have gone wrong?
We'll look at how they faced this challenge, and the early growth of Friends-International in Part Two, coming soon!