For a Child's Future
Migration happens when people go in search of opportunities to live better lives. These are opportunities they feel do not exist where they currently live. Individuals, and sometimes entire families migrate, and often this can be an unsafe migration. Sometimes migration is used for the gain of traffickers, and where children and youth are involved exploitation and abuses can occur. (Ending Unsafe Migration, April 2019, https://friends-international.org/blog/index.php/ending-unsafe-migration/)
Times are hard for *Leak and her husband. They have been living illegally in Thailand for a while now with their baby who was born across the border without documentation. The team from Peuan Peuan (Friends International Thailand) was surveying a new zone one day and met Leak and learned about her and her family's story. Her baby needs to have a birth certificate to get her much needed infant vaccinations.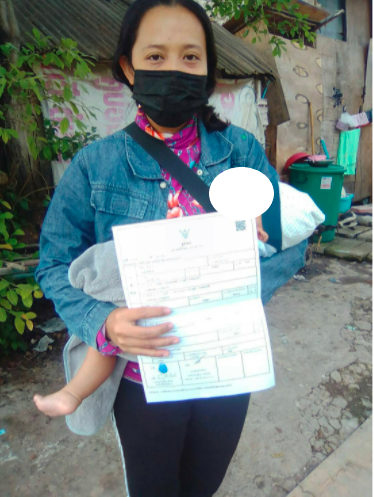 Peuan Peuan helped Leak to get her baby's birth certificate done. This service is one of the many services which are made available at Peuan Peuan for those who are at risk. Our team also provided them with an emergency support package (food supplies, etc.) and COVID19 protection and prevention training. Now husband and wife can return to Cambodia with their baby, a legitimate Cambodian citizen.
*Names changed for privacy
*Face covered for privacy.