First Impressions…
We have two young volunteers from the UK with us at the moment who are working with our communications team and will be blogging about their experiences of Friends and Cambodia in the coming weeks… say hello to Thea (below, l)and Kesh(r), and please enjoy their first impressions of  Cambodia… and FI…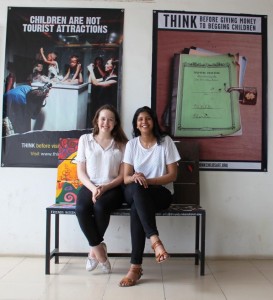 'Sitting on a little bench in the sweltering heat outside Phnom Penh airport, we attracted stares and giggles from curious passersby as we looked around for whoever was to pick us up. We waited next to the reassuringly familiar sign of the Dairy Queen until James arrived in a TukTuk to take us to our hotel. Since one of us had only been to Phnom Penh ten years ago (at the tender age of 9) and the other not at all, James gave us an initial insight while flashes of Phnom Penh sped past us in the darkness. Overwhelmed by the humidity and armed only with a Lonely Planet, we wandered the streets to find our first dinner.
The next day, bright and early (or not as early as it should have been as we overslept by three hours), we arrived at F-I. After a quick tour of the office, James explained the purpose and practices of Friends. Countless videos of Mith Samlanh and Child Safe PowerPoints were shown until we began to grasp how the organization worked. Struck by a "Children are not a tourist attraction" poster, we were interested to learn about the ethical dangers of Orphanage tourism. Surprised not to find children running around everywhere, we hadn't realized how separate F-I and Mith Samlanh are.
Our first week was quite the Phnom Penh initiation. First of all, we had to get to grips with pricing. Some things, food in particular, were so wonderfully cheap that we expected everything to be a bargain. One of us even tried to buy an iPhone for $5.60 before we were laughed out of the phone shop, since it was a hundred times that much. TukTuk pricing etiquette also baffled us (and still does). Our attempts to bargain were met with a snort and the well learnt phrase "Two Dollars is the maximum price"'. If only!
Language miscommunication is still a bit of an issue. Earlier this week, after discovering a slight roach infestation in our apartment, we rushed squealing down to reception. The man working at the desk thought our outrage was in reference to a lost shirt. He insisted he would try and sort it out the next day. We angrily responded that it was disgusting and that the next day would not do. He looked crestfallen, until we Google-imaged the bug in question. His squeal was even louder than ours. Equipped with ammunition (Raid Bug spray), he and his comrade headed up stairs. We made a quick escape to dinner, having rejected their suggestion that we make 'a fun video' of the hunt as a souvenir of our trip….'