Employment For All – Futures Thailand!
Access to employment is key in ensuring that individuals will have a stable and sustainable future ahead of them. A couple of years ago we took the years of experience we had in working in the field of vocational training, plus our knowledge of guidance and counseling for marginalized individuals, and we created a new project which we called Futures.
Futures is about employment – however, not just for those on the margins of society. Futures is about employment for all! It's both static (offices) and mobile access to information to help someone find a job opportunity, support for them to apply effectively (help writing CV's is one example of this), advice for them on training. It's connecting the needs of the market to the skills of the job seeker, it's providing guidance and support to the potential entrepreneur… all of these, and more. A one-stop staffed by skilled, experienced and most importantly, caring people, listening and responding to the needs of their clients.
Futures first rolled out in Phnom Penh, Cambodia, quickly followed by Siem Reap and Sihanoukville, where it is run by ChildSafe Alliance partner M'Lop Tapang. Now it is truly international, with the recent launch of the latest Futures office and mobile service in Bangkok, Thailand.
We received an update on the project achievements to date from Ms.Phonthip Bunsuk (Thip), the Safe Migration Manager of our Thailand team.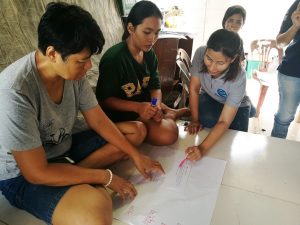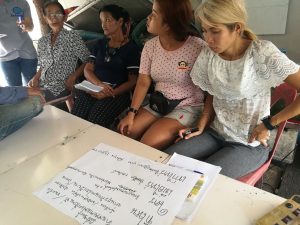 "We've been very busy with the setup of our office and mobile team. We've been promoting Futures across four community areas (you can see our work in one of those areas, Klongsawan, in the photos) and one shelter in the city – in the shelter alone we worked with 25 young people! In one community where we visited, 10 caregivers received business training from us. We've already supported four people into jobs, we're currently assessing another 17 cases we expect to place very soon, and we have another 13 caregivers in these communities we are assessing as potential small business start ups. We're also anticipating delivering employability training to around 90 persons this month, from communities and shelters. So, a really great start for Futures in Thailand!"