An Agent Intervenes
The whole world is suffering the effects of the COVID-19 pandemic and children are not exempt from the impacts of the spread of this virus. It has become a strange and stressful time for children everywhere as schools are closed and online classes give out tons of homework, making sure that children are busy and learning.
*Juwita is a happy child. She is a 14-year-old junior high school student studying online at home in Matraman district of Jakarta, Indonesia as schools have been closed in Indonesia since March 2020. She is being raised by her mother, now a single parent following the recent death of her husband.
Juwita has a motor learning disorder, and as the online homework given by her teachers piled up, she started to have frequent mood swings and began withdrawing from her friends and family.
Mrs. Mesi is a housewife who usually spends her free time at the community gazebo in front of her house. She is a friendly person, and is known in Matraman as a child protection agent in her community. As a ChildSafe Agent trained by Friends in September 2019 and July 2020, she is enthusiastic about protecting children. "After becoming an agent with Friends, I have a big responsibility and need to know more people. The more people I know the more I can protect children." Mrs. Mesi has handled several cases of child protection. Through her own child, Mrs. Mesi heard that a neighbor's child (Juwita) had been having problems studying online.
Unable to cope with the stress of assignments Juwita once said to Mrs. Mesi, "I'm confused, it's too much. I'm going to kill myself." Her mother consulted Mrs. Mesi to find a way out and help Juwita with her learning problems.

Seeing Juwita's serious situation, Mrs. Mesi began visiting regularly and talking with Juwita to motivate her to keep learning. At the beginning, Juwita could not see a way out of her situation. When asked why she wanted to commit suicide, she said she was overwhelmed and depressed because her assignments were too difficult. However, little by little, Mrs. Mesi was able to help her see her assignments in a positive light and she gradually became motivated again despite her learning challenges. Mrs. Mesi also discussed it with her mother. She notified Yayasan Teman Baik (Friends-International Indonesia) and arranged with the mother for Juwita to access free after-school tutoring, so Juwita can access additional help and reduce her stress. Mrs. Mesi also discussed with Juwita's mother about education and how to handle children who are growing up, inviting her to ask for help any time.
Mrs Mesi's intervention brought about a change. Juwita returned to how she used to be, a happy child, and schoolwork is no longer a burden. Her mother also has peace of mind and is more confident she can help her daughter with her education in the future.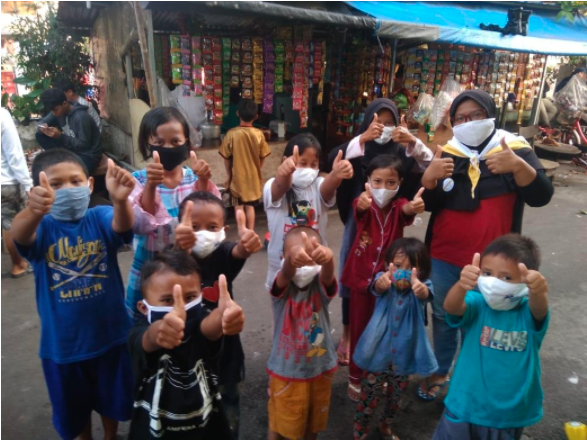 This is only one of the stories of numerous children who were assisted by Mrs. Mesi, who has also helped to distribute masks and teach her communities' children about COVID-19 safety protocols. After telling her story she said, "I'm so happy to be able to take part and be a part of helping children around me. I also know better how to deal with children now, including my own."
ChildSafe Agents, #everydayheroes in their communities!
*Name changed for privacy
Support our work – visit friends-internationl.org/rebuildfutureswithfriends