Rebuilding Sanna's life
In January 2020, Sanna's house burnt down in the fire that destroyed hundreds of homes in Bak Touk's district in the north of Phnom Penh, Cambodia. Today, Sanna has rebounded from adversity and is again making a living.
Sanna enrolled in our home based production program three years ago, just after she divorced her husband who was abusive. She didn't have a stable job, so not enough income to feed her four sons and send them to school.
We trained her and taught her sewing techniques so she could make products sold in our ethical shop and earn money from home while caring for her sons. Sanna used to make bags before her house burnt down and her sewing machine was destroyed, leaving her without any income generating activity.
The aftermath of the fire. Credit: Andy Ball Media
Thanks to our great supporters, we were able to provide her with emergency support such as kitchen materials, sleeping mats, food and school supplies for her sons – and a new sewing machine!
Despite cutbacks caused by the current global health crisis, Sanna can still make products from home and make a living. With her new sewing machine, she's making backpacks for one of our external customers. This allows her to get an income and provide for her family. In the future, we are planning on training her to sew face masks – a new product we will start selling in our stores!
Providing training and income for mothers
Although the economic situation is improving across Southeast Asia, women constitute the majority of the poor and are facing serious obstacles including high illiteracy, gender-based violence and a lack of economic opportunities.
By training and giving job opportunities to marginalized mothers, we are empowering them to gain the skills they need to increase their financial contribution to the family and their financial independence, which brings them more decision-making power and gender equality in the home.
A few years ago, we launched our home-based production and training program. This project provides marginalized mothers with access to market-linked skills-training and decent income to meet their children's needs. By providing immediate skills and income to those mothers, we ensure children can attend school, it facilitates family stability, improves childcare and stimulates local economies.
The ultimate aim is to graduate mothers to advanced, transferable skills that they can use to find employment or start a micro-enterprise.
This tailored competency-based program and curriculum includes the following activities:
Hard technical skills-training that promotes manual dexterity, such as cutting, measuring, gluing, basic and advanced machine sewing, pleating, wrapping, metal work, screen printing, hand embroidery, etc.
Soft skills-training such as material sourcing, quality control, transport, business management and basic financial skills useful to start a business or get a job
Source recycled materials, such as tires, rugby balls, forks/spoons, newspaper, magazines, packaging
We provide equipment (sewing machines, etc.) so mothers can make the products in their homes, on their own schedules. Once completed, the mothers bring products to Friends for quality-control checks, and we purchase the products from them.
In addition to the training and employment opportunity, our social workers follow-up with mothers to provide continuous support to ensure their sustainability, working with them on securing long-term employment.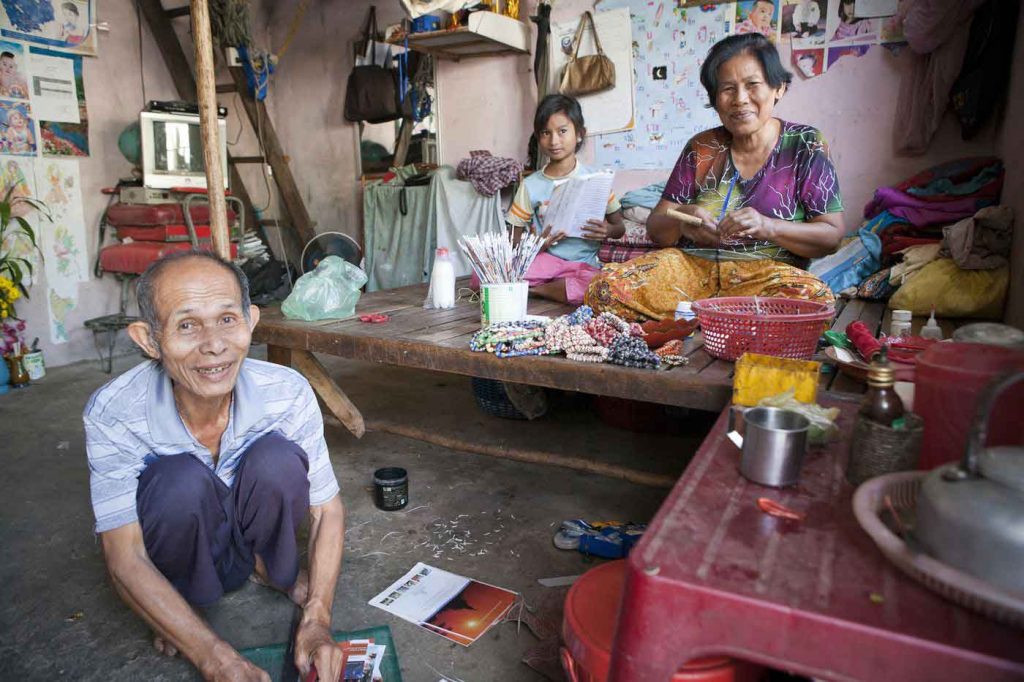 Providing employment opportunities and long-term solutions to caregivers is key to ensure their financial sustainability and their ability to care for their children. In the current context of the COVID-19 pandemic hitting hard the Southeast Asian economies – relying highly on tourism-based activities -, offering long-term opportunities is vital: the poorest are being hit the hardest and it is only by supporting them rebuild their livelihoods that we will make sure the gap doesn't grow bigger.
You can provide more opportunities to marginalized families and caretakers by making a regular gift > visit our website to learn more.