Fun Filled Day in Sapansiri!
Vuthaya Charoenpol (Ann), our Country Program Manager for Thailand sent us this recent piece on a fantastic fun-filled day held in one of the communities the Peuan Peuan team works with in Bangkok.
'Saturday 12th January was national Children's Day in Thailand. Peuan Peuan along with other local authorities and companies organized fun activities for children in Sapansiri Community.
Children's Day was held at Prachathippat School, just across the wooden bridge, on the other side of the community. There were many children and their parents from Sapansiri community and others from nearby areas joined in also.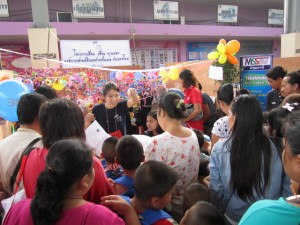 Peuan Peuan had an area with some games and some prizes to surprise the children. There were three games featured –  'Questions and Answers', 'Sketch and Guess' and 'Fun with the Flying Ring'. Altogether  more than 500 children with their parents joined in the huge amounts of fun at the Peuan Peuan stalls!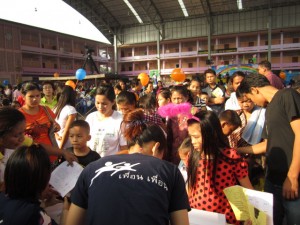 Wow, with this number, we all sweated but it was super fun and so worth it judging by the smiles on the faces of the children!
Huge thanks to all my super Peuan Peuan team who helped to make Children's Day so much fun for the children and families we work with!'