Floods Cause Continued Chaos To Cambodian Families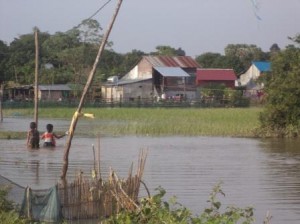 Once again floods have brought death, destruction, chaos and disease to some of the most vulnerable families in Cambodia. The death toll in the country is now over 100, and many of the families that we and our partners work with across the country have been badly affected by the deadly floodwaters.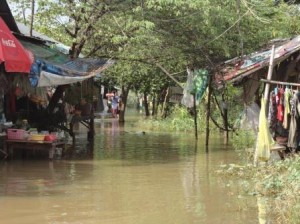 In Siem Reap, there are currently nearly 40 families that our Kaliyan Mith team works with in and around the city who need additional emergency support, particularly for food.
On the Cambodia/Thailand border, our Peuan Peuan team in Poipet are active in trying to coordinate responses from the NGO community to flood affected families and  also to provide emergency support where directly needed. On a fact finding mission to an area (pictured below) where families have been relocated due to their homes being flooded, our Country Program Director for Thailand, Ann, noted a deteriorating situation for many of the children – many are sick and not receiving medication, all are out of school as schools are closed, and there are potential child protection issues arising.
Whilst not as extreme as it was in 2011, the situation in Phnom Penh is still very bad. Families in the impoverished Chba Ampou community have also been relocated due to flood destruction of their homes, and many are receiving emergency support, both medical and food, from our Mith Samlanh team.
You can help us to address these situations by clicking here and selecting 'emergency support' from the program/project option drop down.
Any amount you can donate will help our teams to support these vulnerable families and ease the widespread distress that the floods have caused.
Thank you from Friends.