Cambodia: 1.5 million children unable to study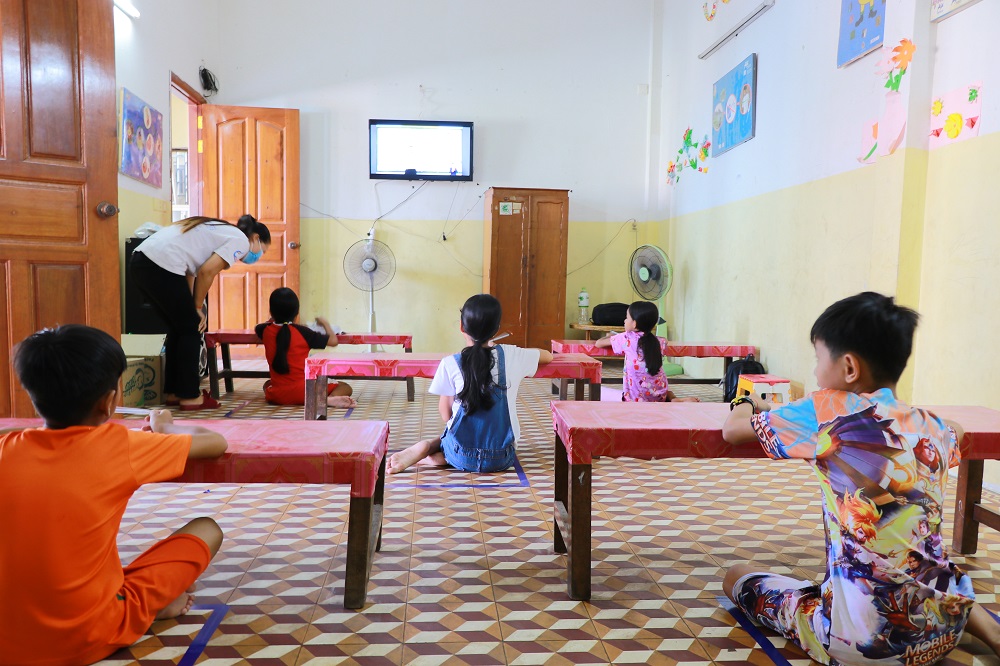 Schools are gradually reopening in the Kingdom of Wonder, following strict Standard Operating Procedures defined by the Government aimed at welcoming children in a COVID-19 safe environment. However, not all children have the chance to go back to their classrooms.
March 8th. As the COVID-19 pandemic continued to spread around the world, all schools and education facilities across Cambodia (including ours!) closed their doors. As in most countries, it was one of the first measures to be implemented to prevent and halt the spread of the virus. The Cambodian Government made a great effort to quickly deploy education alternatives and e-learning opportunities, yet half of the 3 million Cambodian students cannot easily access these learning resources due to the high cost of internet credit and poor/no access to technology. One of our top priorities became making sure that marginalized children were and are able to keep studying and that the disruption to their education is minimal.
Providing face to face and remote education for the most marginalized children
Since March, our teams have developed new activities to give all children the chance to keep studying. Some of our Drop-In-Centers stayed open – following strict safety measures – to welcome children who don't have televisions at home to access televised Government learning programs and get one-on-one support from our teachers. The teachers and social workers are also providing remote education support by preparing and distributing homework directly in communities.
Kunthea, one of our Drop-In-Center teachers, worries about the future of education for the most marginalized children: "It will be very difficult for some children to catch up once school starts again: the months without school increase even more the knowledge gap as many of our beneficiaries are not able to study properly from home and their parents cannot help them. I'm sure the need for remedial and catch-up education will increase in the coming months so we need to be ready".
After more than six months out of school, the most vulnerable children are falling behind and are at real risk of permanently dropping out: knowledge gaps have grown bigger between those who could follow daily online classes and those who could barely study at all, and if it is hard for them to follow classes as a result, they will naturally drop out. In addition, the public health crisis was doubled by an even bigger economic crisis meaning many families lost some or all of their income. In Cambodia, it was reported that 13% of parents had to put their children to work to supplement the household income. Without support to get back into school, some children will be forced to work instead.
Schools reopening: a reality for some children only
From September 7th, schools have been partially reopening their doors to continue the school year. However, only children from some schools, some levels and some provinces have the chance to go back. This is indeed the second phase of reopening (the first phase was targeting international schools with high safety standards), and is only valid for students from grade 9 to 12 (highschool) to enable them to take the national exam in December. In addition, this second phase is also allowing schools in four provinces in the northeast of Cambodia to welcome students of all levels.
For the rest of the provinces and levels, schools won't reopen their doors until the new school year, which has been delayed from November 2020 to January 2021.
This means four more months with no school for most of the children and a much increased risk of never going back…
A growing need for remedial education and reintegration support
In the coming months and to continue the work being done since schools shut down, remedial education support will be crucial. Education is a core pillar for a country's development and the future of its population. Without help, many Cambodian children are unfortunately seeing their chances for a better future drastically reduced.
Starting end of September, our education centers will reopen gradually to provide catch up and remedial classes to children, to make sure they will have a sufficient level to re-enroll into school for the next school year. We will also need to support the school reintegration of more than 1,000 children by providing them with school material needed to start the school year. Many families can't afford to buy school supplies, having no choice but to keep their children at home – or worst case scenario, at work! – instead of school.
To support Cambodian children's education, visit our online gift shop!