Brewing a Brighter Future
The future is not as dark as the brew Ixora makes every day in the coffee shop where she makes a stable income to support herself and her grandmother.

Things were not always this way, Ixora experienced challenges from a young age when her mother passed away and her father abandoned her and her brother for a new life with another woman. Ixora and her brother were left in the care of their grandmother. Her brother earned money for the three of them, which barely helped to make ends meet.  
Ixora, now 18 years old, tried to look for a job on her own, but due to her limited education and the COVID-19 lockdown, it was very difficult to find one. She heard of how she could find help from Teman Baik (Friends-International Jakarta) in December 2021. After going through an assessment with Teman Baik's social workers and establishing her goals with them, Teman Baik started her off with classes in soft skills to equip her for professional work. After which, Teman Baik sponsored Ixora to take part in a three-day barista training with Koffie Nation (training provider and cafe chain). Ixora was then selected for an additional six-day internship to gain on-the-job experience.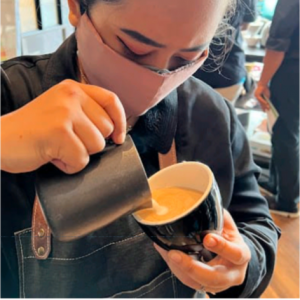 Full of confidence and ready to find a job, Ixora started applying to cafes with the support of Teman Baik's Futures employment officer, who helped identify opportunities. Finally, she was able to find a job at a café with a salary enough to support her and her grandmother. She overcame her challenges and is now brewing a brighter future with every coffee cup. 
*name changed to ensure privacy